Concert Detail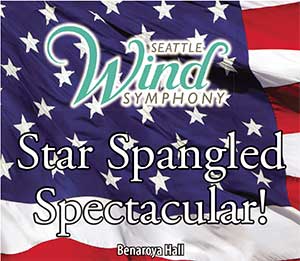 Star-Spangled Spectacular - 2015
Date and Time
Wednesday, July 1, 2015 at 7:30 pm
Location
Benaroya Hall
200 University Street
Seattle, WA 98101
Program
The Star-Spangled Banner
Orchestrated by John Philip Sousa
Harmonized by Walter Damrosch
Arranged by Keith Brion
Chester Overture
William Schuman
The Invincible Eagle
John Philip Sousa
Napoli
Herman Bellstedt
Variations on Gershwin's Swanee
John Philip Sousa
Semper Fidelis
John Philip Sousa
Io sun lumile Ancella from Adriana Lecouvreur
Francesco Cilea
I've Made My Plans for the Summer
John Philip Sousa
Armed Forces Salute
Various
George M. Cohan Sing Along
George M. Cohan
God Bless America
Irving Berlin
Humoresque on Yankee Doodle
D. W. Reeves
The Whistler and His Dog
Arthur Pryor
The Chimes of Liberty
Edwin Franko Goldman
Arranged by Loras J. Schissel
The Battle Hymn of the Republic
Traditional
Arranged by Peter Willhousky
Take Me Out to the Ball Game
Jack Norworth and Albert Von Tilzer
1812 Overture
Peter Tchaikovsky
Arranged by Mayhew Lake
The Stars and Stripes Forever
John Philip Sousa
You can view a print program online at SeattleWindSymphony.org.
Featuring
Keith Brion, guest conductor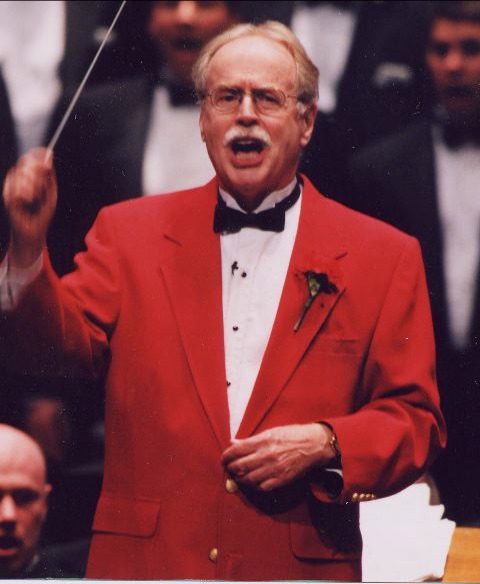 Keith Brion is currently a free-lance conductor of professional bands and symphony orchestras including his own New Sousa Band. He has been a frequent guest conductor of the Goldman Band, the Allentown Band and the Stockholm Symphonic Wind Orchestra and has also appeared with most of America's major military bands. His university concerts have included among others the bands of the universities of Texas, Ohio State, Florida State, Michigan State, Iowa, Iowa State, Illinois State and Kentucky, as well as frequent clinic performances.
Mr. Brion has led his own New Sousa Band, a nationally selected ensemble, since 1986. His New Sousa Band has toured all over the United States. The New Sousa Band has also been presented in special event concerts staged by the Minnesota Orchestra and the Seattle Symphony. The New Sousa Band toured internationally in Japan (1996) and China (2009). The band has also appeared as featured artists at both the WASBE (World Band conference) in Cincinnati and the Midwest Band Convention in Chicago.
Keith Brion has led his popular Sousa revival concerts with almost all of America's major and regional orchestras, among them the Seattle Symphony, Boston Pops, and among them the symphonies of Philadelphia, Pittsburgh, St. Louis, Houston, Atlanta, Utah, and Milwaukee.
Mr. Brion has appeared in a PBS TV special "The New Sousa Band On Stage at Wolftrap", and in the PBS-TV 90 minute special "If You Knew Sousa".
His recordings include the Original-All-American-SOUSA! with his New Sousa Band for Delos Records, the Sousa Legacy for Bainbridge Records, recorded with the Rochester Philharmonic and the New Sousa Band, Mr. Brion has also recorded "Stars, Stripes and Sousa ", with the Washington Winds for Walking Frog Records.
Other recordings include To the Fore!, the Wind Band Music of Percy Grainger with the Michigan State Wind symphony on Delos, and "Star Dawn", the wind Music of Alan Hovhaness with trombonist Christian Lindberg and the Ohio State Concert Band also on Delos. He has recorded the seven wind symphonies Alan Hovhaness for Naxos with the wind orchestras of the Royal Scottish Academy in Glasgow and trumpeter John Wallace, London's Trinity College as well as the Ohio State University Concert Band. Mr. Brion records extensively for the Naxos label, including three volumes each of the orchestral music of Sousa and Victor Herbert and a Percy Grainger orchestral issue "The Power of Love".
In the summer of 1999, also for Naxos, he began to record a series of CD's of the complete Sousa music for wind-band. Sixteen volumes have been recorded with the London's Royal Artillery Band, the Central Band of the RAF, the Norwegian Navy Band. the Royal Swedish Navy Band and most recently the Marine Band of the Royal Netherlands Navy. This season he will be recording volumes 17 and 18 of his Sousa series in London with the wind orchestras at Trinity and Guildhall schools of music.
As part of the recording series, he is making new performing editions of Sousa's 135 marches as well as many new full score editions of Sousa's other extensive output of concert music and classical transcriptions.
To date Mr. Brion has published over forty editions for band including the music of Charles Ives, Percy Grainger, J. Bodewalt Lampe and D.W. Reeves, plus over thirty critical performance editions of the music of John Philip Sousa. He is currently writing a book on the performance practices of John Philip Sousa.
Mr. Brion began his career as a vocal and instrumental teacher in the East Brunswick, New Jersey schools and then served for six years as band director at Newton, New Jersey High School. From 1963-1972 he was supervisor of music for the Caldwell-West Caldwell, Schools (NJ) and led the North Jersey Wind Symphony, a professional band that included principal trumpeter and soloist Gerard Schwarz. From 1964 to 1973 he was also the curator of the Percy Grainger collection at Upsala College.
From 1973-80, he was director of bands at Yale University, leading the Yale Band in concerts at the Kennedy Center, Carnegie Hall, and an all-Ives program at Amsterdam's Concertgebouw. He performed regularly as a flutist with the New Jersey and New Haven symphonies. He is a graduate of West Chester University and Rutgers University and currently lives in Cambridge MA. He may be contacted at WillowBlos@aol.com.
Linda Gingrich, chorus master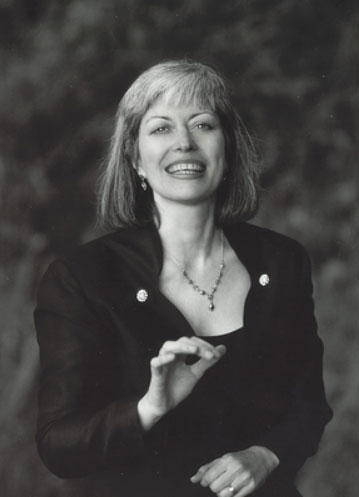 Linda Gingrich, long-time Issaquah resident, is the founder and conductor of Master Chorus Eastside. She received the Doctor of Musical Arts degree and Masters of Music degree in Choral Conducting from the University of Washington, and her Bachelor's degree in voice from Cornish College of the Arts in Seattle. She is also a performing member of the Ladies Musical Club. She has many years experience with church choirs, in college and private teaching, as an arranger, lecturer and author. Dr. Gingrich is a published composer, and MCE has premiered a number of her works. Master Chorus Eastside's achievements are due primarily to Gingrich's inspiration. She has transformed a group of 25 rusty-voiced amateurs in 1991 into a talented 50-voice ensemble which sings with "zest and panache" (EastsideWeek). Dr. Gingrich has a passion for choral conducting, and according to reviewer Phillipa Kiraly (EastsideWeek, Arts Groups to Watch), is "musical to her fingertips." Dr. Gingrich's incomparable dedication and commitment to presenting enjoyable and inspired musical programs to the community east of Seattle is truly a gift shared by performers and audience members alike.
Master Chorus Eastside: http://www.masterchoruseastside.org/.
Alexandra Picard, soprano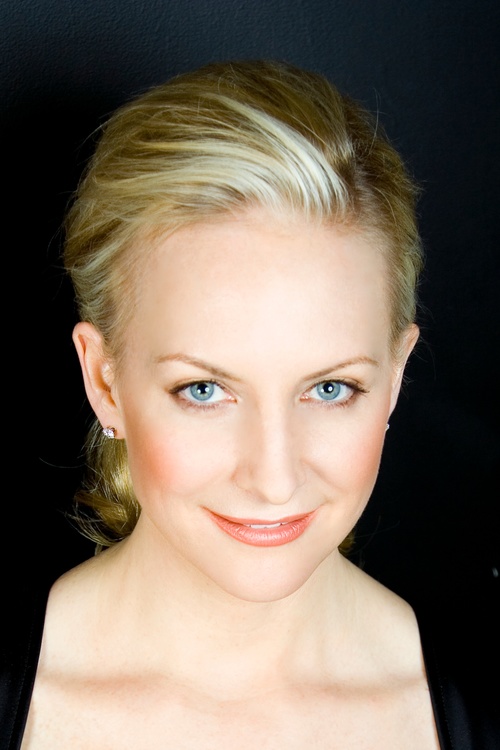 Alexandra Picard is emerging as one of the most exciting sopranos in the Northwest. Most notable for her portrayals of the Queen of the Night, Konstanze, Musetta and Lucia, the Seattle Times speaks of her "bell-like clarity" while Classical Voice comments on her "charisma and spot-on singing" and, of her performances of La Bohème, the Everett Herald comments that she "makes a big impression … and knocks it out of the ballpark." As the Queen of the Night, the Spokesman Review raves "… her singing was arresting… Alexandra Picard tossed off the notorious series of high F's with complete assurance and at a dauntingly high speed."
She has sung Queen of the Night in Die Zauberfloete for Tacoma Opera, Rogue Opera, the New Opera Festival in Rome, Italy, for the Willamette Concert Opera, and for Spokane Opera in Washington, and is currently singing her sixth professional engagement as Queen of the Night with University of Washington in collaboration with Pacific MusicWorks. She has sung Lucia di Lammermoor with the University of Washington Orchestra, and has performed Musetta in La Bohème in the Kammersaal in Graz, Austria, for Skagit Opera in Washington, and for the Russian Opera Centre in San Francisco. Other stage roles have included Pamina in Die Zauberfloete in Rome, Italy, and in Seattle, Washington, Olympia in Les Contes d'Hoffmann for Bellevue Opera in Washington, Arminda in La Finta Giardiniera in Oakland, California, and Gerhilde in Die Walküre with Hawaii Opera Theater.
In concert Alexandra has enjoyed performances of Gounod's St. Cecilia Mass, Strauss' Four Last Songs, and Haydn's The Creation with the Northwest Symphony Orchestra, and she originated the role of the Ghost of Butterfly in the jazz opera Welcome to the Voice for the Bell Atlantic Jazz Festival in New York with Elvis Costello on Broadway. She sang Orff's Carmina Burana to great acclaim, Beethoven's Ninth Symphony, Queen of the Night for the Seattle Opera Guild, Brahms' Requiem, Faure's Requiem, Handel's Messiah, as well as a gala concert for the Embassy of the United States in Paris, France. Other projects this year have included Brahms' Requiem with both Yakima Symphony and Seattle ProMusica, the featured soloist in Brasilia Symphony Orchestra's upcoming gala concert in Brazil, and the headline soloist for Northwest Symphony Orchestra's Season Finale Concert.
Alexandra earned a Bachelor of Arts from Harvard University, and received her Masters in Music from the San Francisco Conservatory. Ms. Picard is completing her second year as a Doctoral Candidate in Vocal Performance at the University of Washington. Upcoming projects included concerts with Seattle Modern Orchestra and Northwest Symphony Orchestra, and a performance with Seattle Wind Symphony at Benaroya Hall.
Visit her website: http://www.alexandrapicard.com/.
Natalie Dungey, trumpet
Sixteen year old American trumpeter Natalie Dungey came to international attention through her stunning performance of the Arutunian Trumpet Concerto at the National Trumpet Competition that went through the trumpet world on Youtube when she was 10 years old and in the 4th grade. Since then she has been a featured soloist with Christopher O'Reilly on NPR's From The Top (show #202), has premiered works for trumpet and orchestra, and been the featured soloist with orchestras and bands around the country and as far as Japan.
Michel Jolivet, sarrusophone
Michel has been an active bassoonist and contrabassoonist in the Puget Sound area for 30 years and has played with most of the region's musical organizations, ranging from the Hot Air Bassoons and The Northwest Chamber Orchestra to the Seattle Symphony and the Seattle Opera. He has played for a variety of movie sound tracks and can be heard on recordings with the Rainier Chamber Winds and with Arthur Grossman. His primary mentors have been Morgan Griffin, Arthur Grossman, Sydney Rosenberg and Paul Rafanelli.
While studying veterinary medicine at WSU, Michel was introduced to the sarrusophone. This unlikely marriage of saxophone and bassoon seemed to be a perfect fit for Michel. Dr. Jolivet's love for the sarrusophone has helped him become an acknowledged authority on the instrument; he has published articles internationally on both the sarrusophone and the contrabassoon. In 2002 he gave very likely, the world's first solo recital on bass sarrusophone at the International Double Reed Society convention held in Banff, Alberta.
Sara Jolivet, piccolo
A long-time admirer of Dennis Brain and his beautiful French horn, Sara picked the flute at the age of eleven simply because the French horn case was too big! From then on, she never looked back. A native Olympian, she studied through middle school and high school with fellow Olympian Richard Lince and Zart Dombourian-Eby, piccoloist with the Seattle Symphony. During those early years, she participated and won awards in local and state competitions. Sara continued her further studies at the Eastman School of Music in Rochester, New York with Bonita Boyd. While a flute performance major there, she performed with such legendary groups as the prestigious Eastman Wind Ensemble. Among her solo appearances, Sara has performed as soloist with many local groups including the Olympia Chamber Orchestra and Philharmonia Northwest. When not playing the flute or piccolo, she can sometimes be found struggling mightily on the bassoon. Her article "My Secret Life - Confessions of a Flutist" was internationally published in the International Double Reed Journal in 2008.
Dave Beck, narrator
Dave Beck is KING FM's newest daytime announcer and producer of local classical music programming on-air and online.
Dave's 30 years of experience as a local arts and cultural reporter, music host, producer and, interviewer adds depth to KING FM's role as a resource and advocate for regional arts. He has deep roots in both radio and classical music, having started as a local arts reporter on KUOW, where he later became music director. Most recently Beck was an interviewer, reporter, and producer for KUOW Presents. He has won national and regional awards for his work. Beck's work in the arts will also be heard in his role as a contributing reporter with KUOW.
A musician himself, Beck plays cello with the Auburn Symphony and various chamber ensembles and has served on Simple Measures and the Seattle Youth Symphony boards of directors.