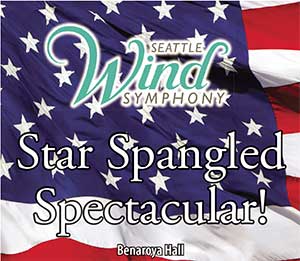 Star-Spangled Spectacular - 2016
Wednesday, June 29, 2016 at 7:30 pm
Benaroya Hall
200 University Street
Seattle, WA 98101
Join the Seattle Wind Symphony for their 4th annual Star-Spangled Spectacular, this year more spectacular than ever. This will be the inaugural concert for Dr. Wayne Bailey, newly appointed Artistic Director and Conductor of Seattle Wind symphony celebrating this "Birthday Party for America." Wayne will be joined by a select 80-voice choir led by Dr. Linda Gingrich. Also on the program are soprano soloist Alexandra Picard and euphonium soloist Danny Helseth. Dave Beck from KING FM radio will narrate. The concert will feature your favorite patriotic tunes, including sing-a-long opportunities. While a ticket is required, admission is free and we will be taking donations to defray the concert expenses.
Thank You Kennelly Keys
| | |
| --- | --- |
| | Seattle Wind Symphony would like to thank Kennelly Keys Music for their generous support and encourage you to patronize them when you need musical supplies or gifts. You can also purchase tickets to our concert at any of their stores. |
On this day, June 28th
Born:
Heinrich Albert, German composer, in 1604.
Napoléon Coste, French composer, in 1806.
Joseph Joachim, Austrian composer, in 1831.
Richard Rodgers, American composer, in 1902.
Robert Xavier Rodriguez, American composer, in 1946.
Died:
Peter Kreuder, German composer, in 1981.